Setup
You will need a suitable computer ideally with a touch screen, but at least with a mouse.
Your machine should have a stable connection to the internet.
The OneZoom display runs in a web browser as a single page. Use this page to generate a link to your customized museum display page.
You should set up your local machine such that walk up users cannot access other functions of the computer or other web pages.
Full local installation is possible but not recommended, please contact us for more information.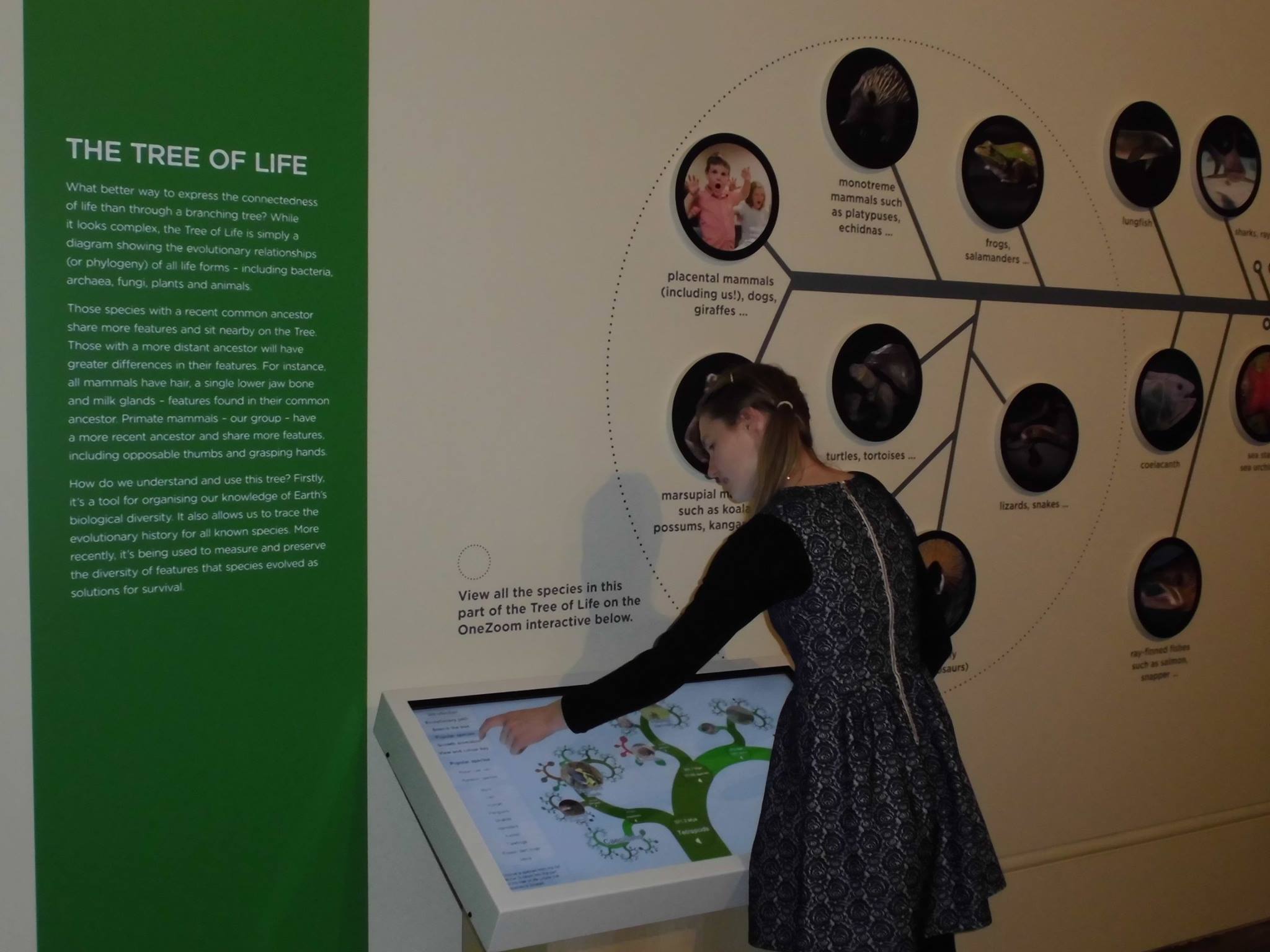 A OneZoom based museum display at the Wild Planet exhibition at The Australian Museum in Sydney.
Key features
Our museum display page differs from the normal OneZoom tree viewer pages in several ways that are designed to make it optimal for use in an exhibition.
The control buttons are larger and with text always present to show what they do.
All links that could enable a user to click and get out of the page are removed, including from the Wikipedia information page insets. This should make it impossible for your visitors to click on anything in the page that might result in displaying inappropriate content.
There are no settings that can be adjusted by the walk up user. Instead you choose the fixed settings below and save the URL in your system as the home page of the display
After a number of seconds of inactivity the display will zoom around engagingly to help attract users (screen saver mode).
There is a tutorial that explains how to explore the tree.
You can select a home focus for your display, which could be all life, but could equally be some branch of the tree that your exhibition is focused on.
Get added to our list of installations
You are free to use this page to include OneZoom in your exhibition without contacting us. We do appreciate feedback and also it is helpful to know which venues are using OneZoom so please do get in touch and tell us about your plans if you can. We may be able to make some improvements to the code based on your feedback. We can also mention your exhibition on social media and list it on our installations page.
Try out the display
Launch in a new tab
Opens using the default settings. To change the settings and get a URL for your installation scroll down and use the form below.
Please note
We are a UK registered charity (non-profit) and our work is supported almost entirely by sponsorships from end users. The names of sponsors may thus appear on leaves of the tree. All text is checked by us before appearing. We do not permit walk up users to sponsor from public displays as it would require entering personal information. Instead we provide basic information about how they could sponsor from their own device.
Use of this display online is free. We are able to provide support and build customized options for your display, but normally expect an at cost contribution to the sustainability of the OneZoom in exchange for service. Use of this page as with any other page on the site is subject to our terms and conditions.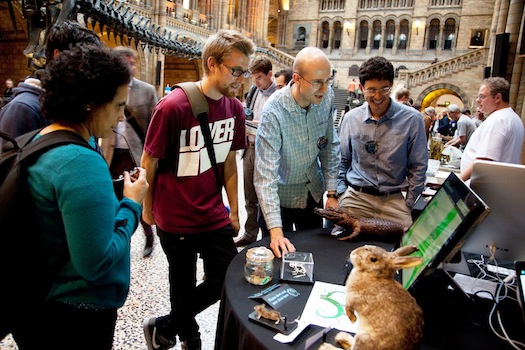 OneZoom at the Natural History Museum in London for Science Uncovered.
---
Display options
You don't have to change any of these options unless you want to. To implement a quick display leave everything on its default value.
This only affects the tutorial function
---